Hi!
Christmas Is Coming!
I often like to look around at other Blogs to see what they're up to! Another great place I like to look for ideas is Etsy! With the Christmas season fast approaching, you can find some wonderful ideas for all kinds of Christmas-y things. So today I want to share some of my finds with you.
First, have a look at
Stephanie Lynn's
Blog
Under The Table and Dreaming
.
She is featuring 6 days of 24 ornaments, all handmade!!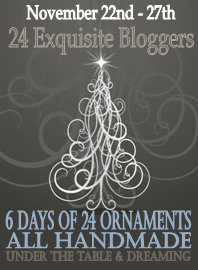 Her very first feature was done by my friend Beth from
The Stories of A2Z
, soon to be
Home Stories A to Z.
She made these gorgeous Chalkboard and Silver Pinecone Ornaments!
On Etsy, Chalkboards are also all the rage! Have a look at some of these great buys.
Elegant Oval Silver Magnetic Chalkboard
is found at
AZCreativeStudio
and sells for $10.50 US
.
Isn't it just adorable?? I love it!!
Chalkboard Tags
I found at
bradensgracewallart
for $8 (12 - 3 1/2" Labels).
These little chalkboard items are just so sweet and versatile! I even saw Speech Bubbles, various animal shapes and whole walls painted with chalkboard paint in kids' rooms! Reminds me of when I was a kid. We had half a wall covered with a chalkboard. I loved it!
Want to learn how to make your own chalkboard paint in any color you like?
Check out
The Sweet Life
for a
full tutorial
on how to do that! It's a well done tutorial that is easy to follow!
Looking for some great ideas for handmade Christmas gifts?
Recently I came across
Melissa Samuel's Blog,
The Art of Scrapbooking
,
where she features this
Mini Birdcage Album
.
I just love this little mini...what a great little gift it would make! Check it out and leave her a comment! Also look around her blog for other great Mini's!!
Another 'Mini's Queen' is Laura from
The Paper Trail.
She does full video tutorials on various mini's and she sells kits with instructions, or just instructions (for the brave) on Etsy. Make sure you check her out! You won't be disappointed!
What a unique scarf...I'm sure someone on your list would love it!! Please, don't forget to leave some love for these creative bloggers!
How about a Tote?
Here is an idea that I am definitely going to put to use this Christmas! I just
LOVE
this idea and I'm a bit hesitant to share it because I would rather make one first and post it....but that may take a while, so here ya go...
The
Juice Pouch Tote
on
Thrifty Fun.
Not only is it fun, it's recycled fun!! What could be better?
I am an avid coffee drinker, so my first project will probably be a Java Coffee Tote. I thought these would also be great using Gummi Bear or Lifesaver wrappers for a little girl's purse! Really, the sky is the limit with these!!
I've seen these at a Craft Fair recently made by a friend, Lydia Koot of Knitty Bitties. She is a knitting diva, and also enjoys sewing. These totes are particularly strong and would work great as grocery bags as well as purses.
Anyway, I am going to have such FUN making one!!
Are you looking for a Centerpiece for your Christmas Table?
Take a gander on
Martha Stewart's site
for a Video Tutorial on this Pop Up Christmas Tree! The photo doesn't do it much justice, so go look at the video. I've already run off the template, and as soon as I get some time, I'm going to make one. So easy!!
Anyway, that's it for today!
I am aiming to do a
Christmas Sleigh Ride of Ideas
about
once a week
before Christmas comes, where I'll find some projects, items, recipes, etc. that are great for Christmas.
In fact, I have a couple of recipes of my own that I'd like to share! So stay tuned! =D
Also, check out:
Sleigh Ride of Christmas Fun 2
Sleigh Ride of Christmas Fun 3
Sleigh Ride of Christmas Fun 4
Thanks for visiting!
Carmen